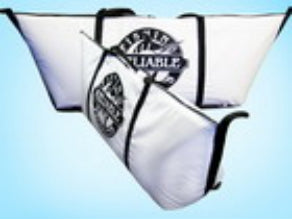 FREE SHIPPING for Reliable Products
Continental  U.S .ONLY
689076316392 28"X48" INSULATED KILL BAG
KILL BAGS!
Why bring the blood on your deck or have bulky coolers in your cockpit. Kill bags hold more fish and alleviate the smells associated with putting fish in your fish holds. Insulated kill bags hold ice for days and collapse for storage.
Contact are sales team for more information.
Deep Storage Area
Reliable Fishing insulated kill bags carry a one year warranty on workmanship.
You will not find a better bag on the market.
Kill Bag sizes are:
18"x36", 20"x48", 20"x60", 20"x72", 28"x48", 24"x60", 30"x60", 30"x72",30"x90",